Artificial winter bouquet, poinsettia mistletoe and...
£ 4,05

*
Artificial winter bouquet, poinsettia mistletoe and cones, Advent decoration green, red, golden L30cm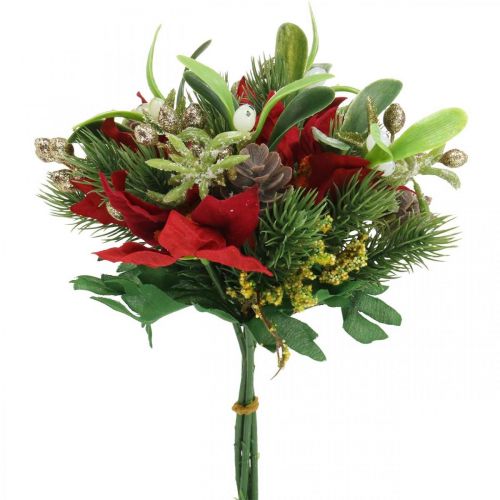 Delivery till 15. December **
---

Product description
This artificial winter bouquet brings Christmassy flair into your home! Tied from poinsettia, mistletoe and cones, it looks particularly beautiful as an Advent decoration, as a winter floral decoration in a hotel or as a table decoration in a restaurant.
The silk flowers of the poinsettia bouquet are in no way inferior to their natural originals and have been artistically crafted from high-quality materials down to the smallest detail. The decorative bouquet consists of four sturdy stems from which several branches of artificial flowers and foliage protrude. The stems of the Christmas bouquet consist of a Christmas star in red, three fir branches, a decorative cone, a mistletoe with berries, and a golden, snow-covered and pearled branch each.
The stems of the artificial flowers can be flexibly shaped and arranged thanks to the integrated metal wire.
The red Advent star is part of every classic Christmas decoration. You will receive the four mixed twigs of flower decorations for Christmas together as a bundle and you can use them together as an art bouquet or work the twigs individually into your floristic workpieces.
The Advent bouquet from the quality brand VIANA does not require any maintenance and will last a lifetime, season after season!
Note:
The accessories and decorative items shown in the product images are
not included
in the delivery.
Length:
approx 30cm
Flower diameter:
approx. 6–8cm
Pin length:
approx. 3cm
Color:
Green, Red, Golden, White, Yellow
Material:
plastic, metal wire
Product series:
VIANA
Quantity:
1 bouquet of 3 stems
manufacturers
: Viana ®
Prod. nr.
: 00995
Weight
: 0,39 kg
Delivery till
: 15. December
**
more item pictures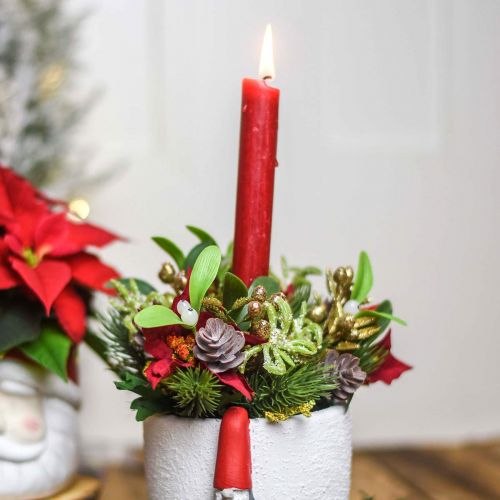 ---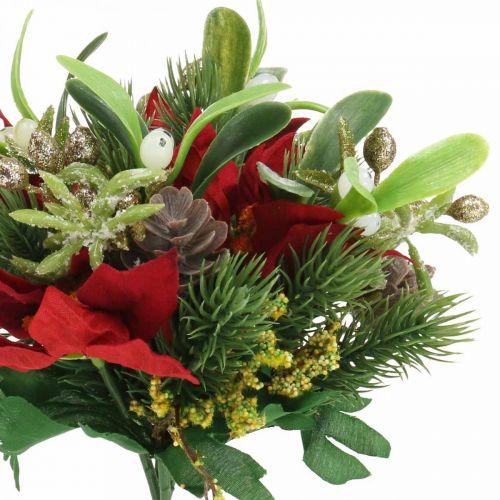 ---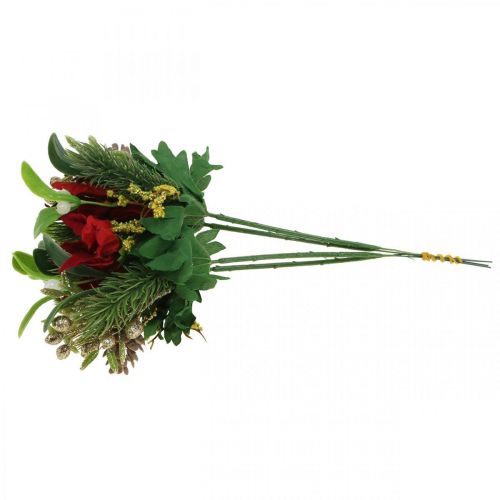 * All prices
excl. shipping costs
. Crossed-out prices correspond to the previous price. All prices exclude VAT and customs duties.
** Except prepayment. After the invoice amount has been credited to our account, we will process your order immediately.
Further categories matching your selection