Artificial clematis branch champagne with glitter 46cm
£ 4,95

*
Artificial clematis branch champagne with glitter 46cm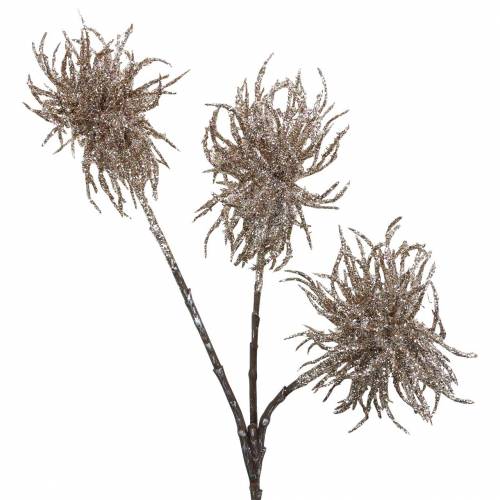 Delivery till 15. December **

Shipping within 24 hours
Only 14 article left in stock.
---

Product description
When the clematis fades in autumn, white cotton-wool-like infructescence adorns its branches. Covered with glitter in champagne, the artificial clematis branch becomes a decorative highlight in your Advent decoration!
Decorate festive wreaths with the artificial clematis branch with glitter or add it to Christmas arrangements or bouquets. The fairy clematis branch looks magical even individually in a narrow vase on the Christmas table or as a New Year's Eve decoration.
The decorative branch is made of brown plastic. Its stem has a natural grain and a flexible, flexible metal core inside. At the upper end there are three fruit bunches completely covered with glitter, which are also irregularly covered with fine white threads, which further enhances their magical look.
The artificial clematis branch Champagne has a total length of about 46 centimeters. Its main branch branches out three times, on each branch there is an artfully decorated fruit ornament with a diameter of about 10 centimeters. A continuous wire core in the branch allows the decorative branch to be bent as required.

Diameter of the fruit
cluster
:
about 10cm
Length:
approx 46cm
Color:
champagne, brown, white
Material:
plastic, metal, glitter
Quantity:
1 piece
Prod. nr.
: 220242-14
Weight
: 0,36 kg
Delivery till
: 15. December
**
more item pictures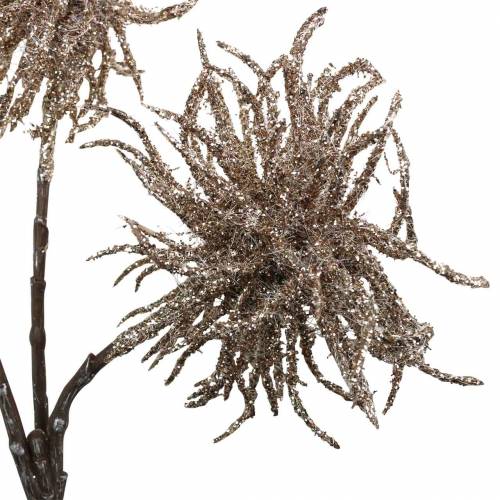 ---
* All prices
excl. shipping costs
. Crossed-out prices correspond to the previous price. All prices exclude VAT and customs duties.
** Except prepayment. After the invoice amount has been credited to our account, we will process your order immediately.
Further categories matching your selection