Planter Cup Antique look White Ø14cm H21cm
£ 15,45

*
Planter Cup Antique look White Ø14cm H21cm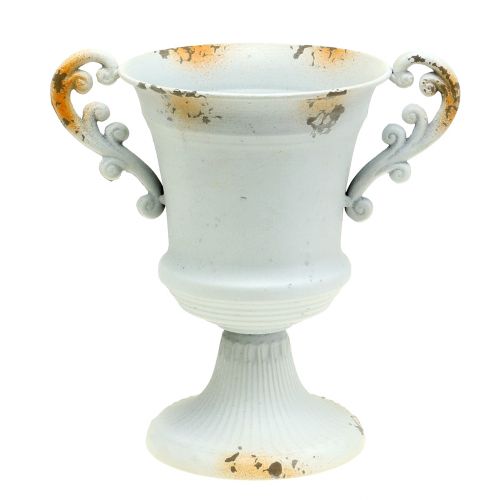 Delivery till 2. October **
---

Product description
This rustic white cup in antique style looks like from times past, making it a great planter for friends of the popular shabby chic. Thanks to artificially created Farbabriebe, scratches and rust marks looks like the decorative vessel, as if it had already seen a lot and have now been converted into a piece of interior decoration. The special details, such as the lamellas decorating the foot of the classically shaped amphora, or the handles, which are lined with ornaments, also contribute to this.
Simply plant the antique cup with spring-like ornamental flowers such as tulips or daffodils. The contrast of supposedly antique pitcher and fresh green will decorate your home wonderfully. Of course, the goblet can also be used as a beautiful table decoration. Imagine how the metal cup will decorate your table when you have invited to a Mediterranean feast. So you can add a little maritime flair to your country house decoration.
The antique metal cup in white has a diameter of about 14 centimeters at the top of the vessel; the diameter of the base is about 11.5 centimeters. With the two handles, the approximately 21 centimeters high vessel is about 22 centimeters wide. The depth of the vessel is about 14 centimeters. When planting, be sure to line the plant with foil to avoid stagnant water.
Diameter (vessel):
approx. Ø14cm
Diameter (foot):
approx. Ø11,5cm
Height:
approx. 21cm
Depth (vessel):
approx. 14cm
Width with handles:
about 22cm
Color:
white, red, gray
Material:
metal
Quantity: 1 piece
Notes:

Accessories as well as decorative items shown on product images are not part of the product unless they are explicitly included.
This product is made from galvanized, post-treated sheet steel. For this reason, we cannot guarantee that the container is 100% rustproof and 100% waterproof.


Prod. nr.
: 64336
Weight
: 0,6 kg
Delivery till
: 2. October
**
more item pictures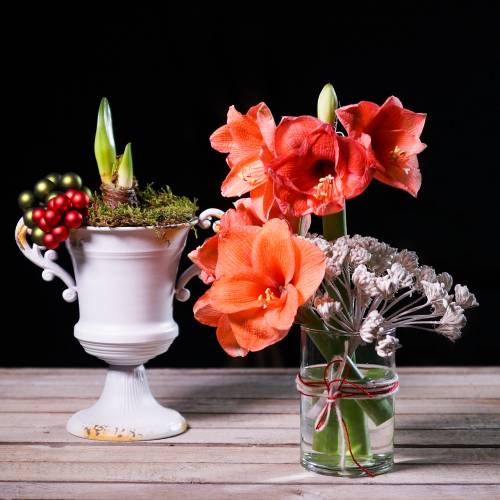 ---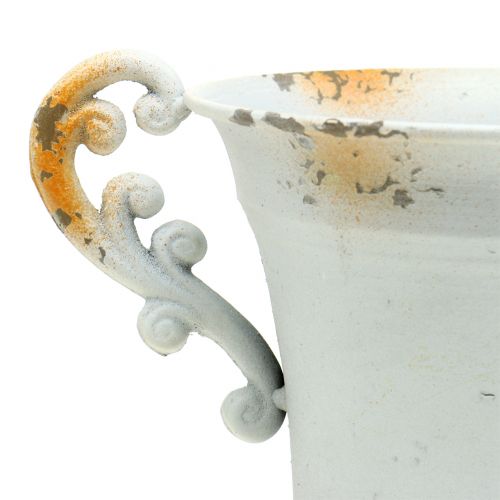 ---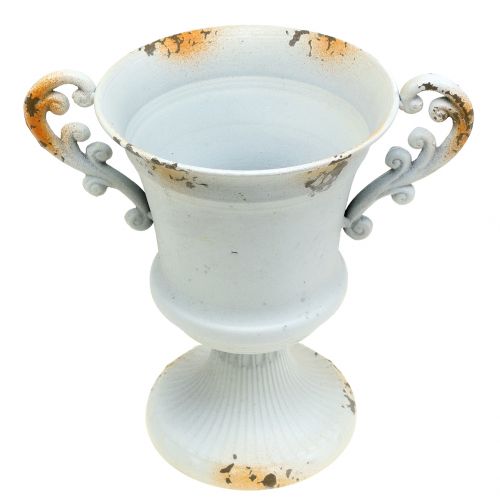 * All prices incl. 20 % VAT,
Excl. shipping costs
Crossed-out prices correspond to the previous price. Plus any applicable customs duties.
** Except prepayment. After the invoice amount has been credited to our account, we will process your order immediately.
Further categories matching your selection